Sponsored by:
Barry King Tools, , Leather Machine Company, Leather Wranglers, & Weaver Leather
Judged by:
Chris Andre, Bob Beard & Bob Park
Administered by: Leather Crafters & Saddlers Journal
General
Pictorial/Figure
1st Place – $150
Carving/Stamping
1st Place – $150
Expert
Pictorial/Figure
1st Place – $250
Carving/Stamping
1st Place – $250
A finished piece of leatherwork 7 inches (17.75 cm)  by 9 inches (22.75 cm), portrait or landscape. The artist chooses the category that their work will be judged in.
The Judges reserve the right to move an artwork into the classification they feel best represents the artwork entered.
$10 to enter; return shipping extra.
Artwork check-in: Thursday, February 28th, 12pm-5pm at the Trade Show Registration Booth in the Prescott Resort. Artwork can also be mailed to arrive between 02/22/19 and 02/28/19. All artwork must be received by Thursday, February 28th at 5pm.
Send artwork to: Prescott Resort & Conference Center
                               c/o Leather Trade Show Carving Contest
                               1500 East State Route 69, Prescott, AZ 86301
Artworks will be displayed at the Southwest Leather Workers Trade Show March 1st & 2nd, 2019.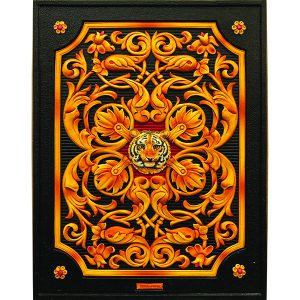 2018
1st Place
Expert Category
Peter Main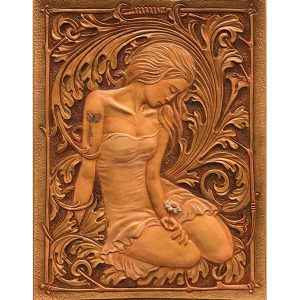 2018
1st Place
General Category
Magie Cui