2019 World Leather Debut
May 17-19, 2019
Registration Deadline is Wednesday, May 1, 2019
Over $12,000 is prize money
2019 World Leather Debut
Registration Closed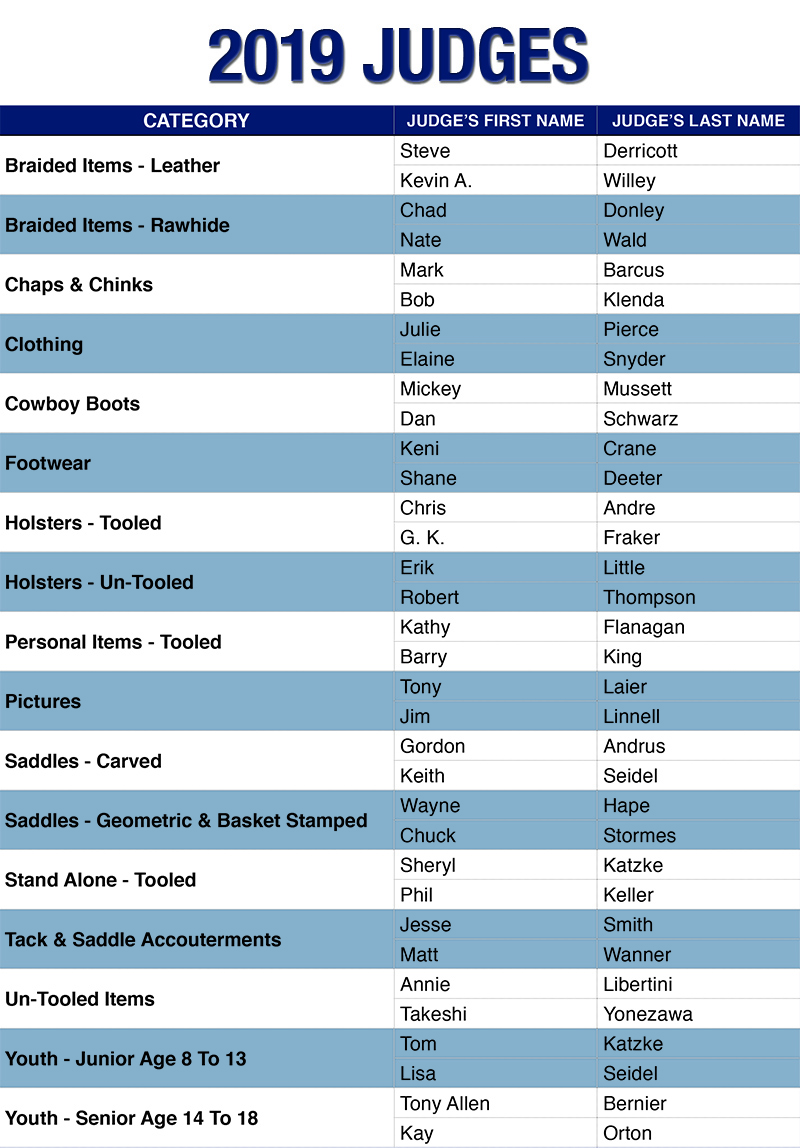 The World Leather Debut is a special event for leather workers worldwide. Makers of any skill level are invited to enter their work and compete for cash prizes and awards in one or more of seventeen categories, two of which are designed just for youth. The entries are arranged in a gallery setting for the public to tour over a three day span during the Rocky Mountain Leather Trade Show. A select duo of judges in each category determine 1st, 2nd and 3rd placement and provide written constructive feedback to the maker. The Debut benefits contestants by providing an enjoyable event that can challenge and even enhance one's perspective, skills and self confidence. The public enjoys the benefit of having the opportunity to view, study and appreciate the works of art on display, many returning home with excitement and inspiration to invest in their own leather working endeavors.
The 2019 Debut is progressing well. Forty-two sponsors have funded the $12,360 in prize money. And judges in most categories are established. New this year is a slight increase in the 3rd Place cash prize in the main categories. Be sure to review the highlights of the event on the next two pages along with the rules and regulations that follow.
All leather workers are invited to participate in the 2019 World Leather Debut. Details of the event are outlined on the following pages. Registration forms are enclosed for your use (copies can be made for multiple entries). Remember, the registration deadline is Wednesday, May 1, 2019. Entries do not have to be completed by this time, only registered and all fees paid.
Please be sure to read the Rules and Regulations of the Debut to help ensure an accurate and thus pleasant experience for yourself. Questions can be directed to Brian Stelzel, Debut Manager at the Leather Crafters & Saddlers Journal. We look forward to your participation in this year's World Leather Debut!
email: info@leathercraftersjournal.com
phone: 715-362-5393
We look forward to your participation in the next World Leather Debut.