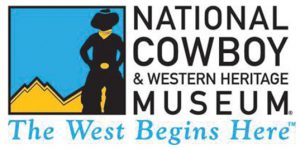 OKLAHOMA CITY, OK – In support of the nationwide effort to slow the spread of COVID-19, and in accordance with recommendations from local and national health officials, the Museum will postpone the 60th Anniversary Western Heritage Awards, previously scheduled for April 17-18. The Awards will now be presented in conjunction with the Traditional Cowboy Arts Exhibition & Sale on October 2-3, 2020.
"This was a difficult decision to make, but the health and safety of our visitors, volunteers and staff is our top concern," said Natalie Shirley, Museum president." We think we've been able to make the most of a tough situation by combining these two premier events. Guests will now have a unique opportunity to experience some of the best in Western art and culture in one weekend."
The Traditional Cowboy Arts Association (TCAA) has been a partner with the National Cowboy & Western Heritage Museum and home to their annual exhibition for several years. The TCAA is dedicated to preserving and promoting the skills of saddlemaking, bit and spur making, silversmithing and rawhide braiding. The pieces they create for the annual exhibition are regarded as highly collectible and are offered for sale during a special opening event.
The Museum will continue to monitor updates from the Centers for Disease Control and Prevention (CDC) and Oklahoma State Department of Health. Any additional changes to our hours of operation or programming will be posted at nationalcowboymuseum.org/coronavirus and on our social platforms.
About the National Cowboy & Western Heritage Museum
The National Cowboy & Western Heritage Museum in Oklahoma City is America's premier institution of Western history, art and culture. Founded in 1955, the Museum collects, preserves and exhibits an internationally renowned collection of Western art and artifacts while sponsoring dynamic educational programs to stimulate interest in the enduring legacy of the American West. For more information, visit nationalcowboymuseum.org.