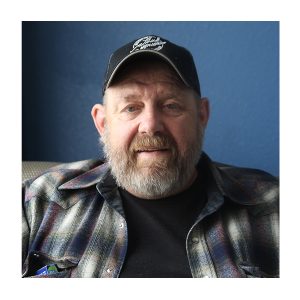 Gene 'Beaner' Flaten, 58, Velva, died Thursday, March 12, 2020 in a Minot hospital.
Gene was born March 9, 1962 in Williston, ND to parents Ronald and Lois (Unruh) Flaten.  He grew up and attended school in Ray, ND.  Gene attended trade school for welding at the ND State School of Science (NDSCS) in Wahpeton, ND.
Gene was united in marriage to Lori Lee on September 6, 1986 in Velva, ND.  He worked on various welding projects throughout North Dakota that included bridges in New Town and Grand Forks in addition to his employment at Enbridge in Minot.  Beaner eventually opened his own welding shop at his home on the farm located south of Velva.
Gene was a member of Oak Valley Lutheran Church in Velva.  Beaner was an avid braider, focusing on making artisan tack and jewelry.  He started entering the World Leather Debut held in Sheridan, WY in 2001.  He took home first prize in his category in 10 of the last 20 years. Beaner was well respected in the western art community and was considered to be a master.  He also enjoyed making time for his friends and family.  Beaner will be missed by all who were blessed to share in his life.
Gene is survived by his loving wife of 33 years, Lori Flaten, Velva; sons Jake (Alana Kennedy) Flaten, Houston, TX and Zack Flaten, Minot, ND; sisters Ardy (Brad) Bingeman, Lewis and Clark Bay, ND and Tammy (Jerry) Ranum, Cole Harbor, ND; along with numerous nieces and nephews.
Gene was preceded in death by his parents, grandparents Carl and Anita Flaten and John and Mary Unruh and mother-in-law Nancy Lee.
Celebration of Beaner's Life:  11:00 a.m. Wednesday, March 18, 2020 at Oak Valley Lutheran Church, Velva, ND.
In light of the latest developments surrounding the Coronavirus and gatherings, the Family of Beaner wanted to express for those who are questioning to attend the funeral to please use your best judgement. The funeral is still taking place on Wednesday March 18, 2020 at 11:00am. The family understands that the health of everyone is of the utmost importance.
Interment:  Velva Community Cemetery, Velva, ND
Family Prayer Service:  7:00 p.m. Tuesday, March 17, 2020 at the Thomas Family Funeral Home, Minot.
Visitation:  Tuesday, March 17, 2020 from 4:00 p.m. until 6:30 p.m. at the Thomas Family Funeral Home.
Memorials are preferred to the Souris Valley Care Center or Oak Valley Lutheran Church, both Velva, ND.
"Obituary," Thomas Family Funeral Home (https://www.thomasfamilyfuneralhome.com/obituary/gene-flaten), Gene Flaten, died 12 March 2020.
Gene Flaten's World Leather Debut Results
2003 First, 2006 First, 2007 First, 2008 First, 2009 First, 2010 Third, 2011 First, 2012 First, 2014 First, 2018 First